Vision
Mission
Responsibility
Our principles
The success of Hexa strongly depends on the unity of interests of the top management and employees, so we strive for establishing an effective dialogue both with our customers and within our company. In our opinion, quality is the cornerstone of activity of any company in any field; therefore, we aim at creating a product that deserves complete and unconditional trust. This can only be achieved when there is mutual understanding between all the parties involved in the working process.
Our goals and meaning of existence
We are building a consistent and well-coordinated working mechanism, which, in its turn, helps us to serve our corporate customers quickly and competently. This can only take place as a result of well thought-out organization of work of all departments, based on close rapport between our employees. Thus, we realize our responsibility for successful, productive and organized work of the whole team and we support our employees' striving for self-development, being always ready for the most daring experiments.
Our commitment to our employees
What it means for our employees is adequate compensation for their work, the guarantee of high labor standards, trainings and events for professional development, employment of non-residents, as well as perspectives for everyone, without regard for gender, religion, political views and physical abilities. We are different, but we are equal. Fresh and promising ideas are generated where there is diversity and favorable atmosphere for fruitful brainstorming, and it's our major duty to create such an atmosphere.
The Company Values
Competency
We treat our projects with due responsibility
Leadership
We take on new challenges with enthusiasm
Persistence
We always strive for optimization of the work process
Trust
We trust – and therefore we are trusted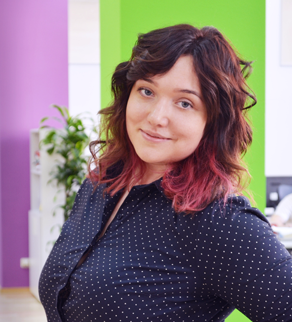 Ain't no mountain high enough…
Hexa is my "small Everest". It's a living proof that a shared idea and joint efforts can turn a hypothetical dream into something very real and tangible. For me, every working day brings up an association with the song lyrics "Ain't no mountain high enough", most likely because the atmosphere of our team helps us understand that we can achieve much more when others believe in us and support our strivings and initiatives in every possible way. People tend to limit themselves with some made-up barriers, fears and skeptical disposition from the very start, but when you are surrounded by your kindred spirits, it's their enthusiasm and support that sets you free and inspires you.
Alina Shyriaieva
Director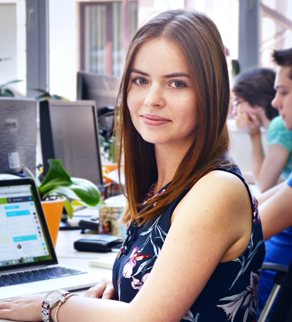 Nothing happens by chance
My path began, or rather was continued, in the university, where I worked hard to obtain the cherished PhD in Economics and to promote the public well-being, and where, luckily, I was found by Hexa recruiters. Since the bureaucracy and the four walls of my alma mater did not really match my dreams of bright and carefree future, I changed the place and the city of work without any hesitation. Hexa sheltered me, trained me and gave me the opportunity to immerse myself into the world of finance from the inside, rather than from textbook pages. Years of work, years of development, years of acquisition of new knowledge and skills – and this is just a small start in the company, combined with excellent team and friendly atmosphere.
Kateryna Tkachenko
Financial Department Manager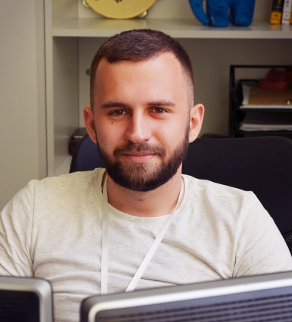 One man does make a team
Until recently, the Development Department consisted of just a few people, with a steadily large amount of tasks. When I was offered the position of department manager, I was resolute to do everything possible to change the situation. I quickly realized what goals the department had to achieve and soon afterwards I could make my own suggestions and make adjustments in the team's work. In part, what promoted my initiative was the openness of top management to new suggestions. I believe that I have already made a measurable contribution into the development of the company and I think that Hexa has also contributed to my career as a programmer.
Ievgeniy Pylypenko
Development Department Manager
Who we are
Hexa is an ambitious IT team that provides the services of programming, developing and web-design to corporate customers. From the moment of the company's foundation in 2015, the number of employees has tripled and continues to grow. It is the best proof that we are on the right track for success. However, human assets are not our only advantage. From the first day of our operation, we have decided to build the company in accordance with the Western business management model.
Such an approach meant distancing ourselves from the values of the bygone epoch, unswerving compliance with business ethics, placing an emphasis on people and their needs, as well as cultivation of responsibility for high-quality and efficient execution of our work duties. The list can go on, but we know for sure that such a system is the most advantageous variant both for the company and for the customers. It works without a hitch, and once again, it means we are on the right track.